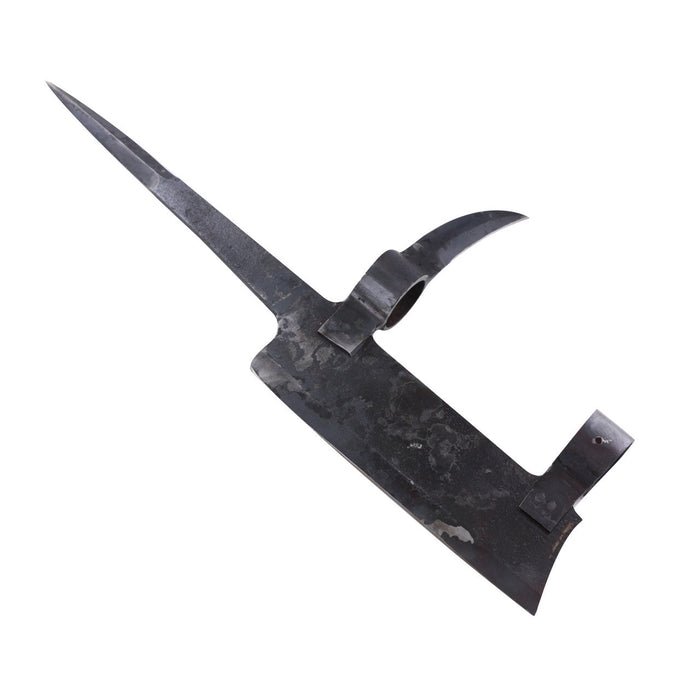 14th Century Voulge Polearm Functional Replica Weapon
Sale
Sale
Original price
$99.99 CAD
-
Original price
$99.99 CAD
Description:
Step back in time with our Medieval 14th Century Voulge—a functional reenactment polearm that pays homage to the fearsome weapons of the past. This polearm, resembling a cleaver affixed to a long pole, was widely feared for its versatility and reach advantage. Hand-forged from high carbon steel and adorned with a rough blackened antique finish, this historical replica captures the authenticity of medieval weaponry. Crafted from a single piece of steel, the cleaver blade, topped with a long spear tip, showcases meticulous attention to detail. Two socket holes are welded onto the spine, with the top socket featuring a spiked end for added functionality. The bottom socket comes with a pre-drilled hole for easy assembly, allowing you to choose your preferred wooden shaft and create a customized piece for your collection or next event.
Specifications:
Authentic Design: Replicates the 14th-century Voulge with historical accuracy.
Versatile Functionality: Cleaver blade for heavy armor and a long spear tip for various tasks.
Solid Steel Construction: Hand-forged from high carbon steel for durability.
Spike-Ended Socket: Adds versatility for grappling or defensive maneuvers.
Overall Length: 16 inches, Blade Length (Main): 7.5 inches, Socket Diameter: 1.3 inches