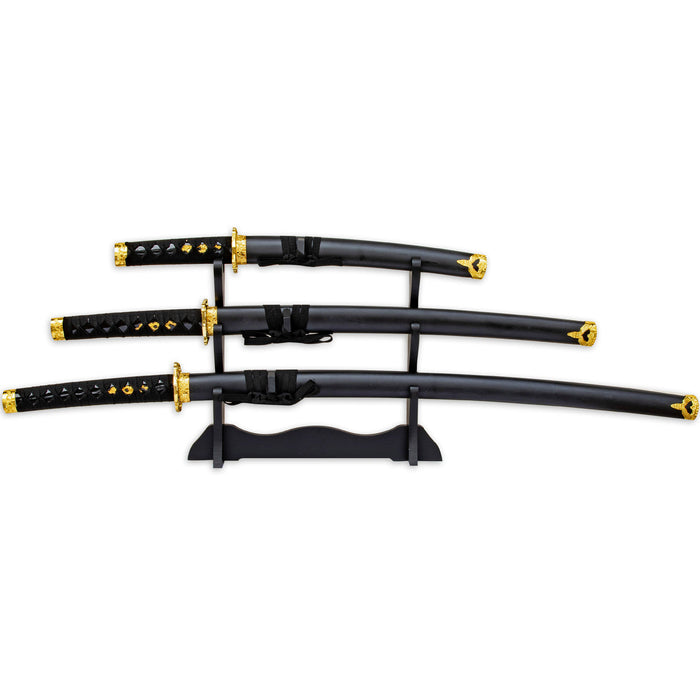 Black Dragon Three Piece Katana Sword Set with Desktop Stand
Sale
Sale
Original price
$149.99 CAD
-
Original price
$149.99 CAD
$149.99 CAD
-
$149.99 CAD
Current price
$149.99 CAD
Description:
Immerse yourself in the rich history and elegance of Japanese samurai culture with our Black Dragon Three Piece Katana Sword Set. This meticulously crafted set features a katana, wakizashi, and tanto blade, each possessing a breathtaking blend of traditional design and modern craftsmanship. The swords in this set are adorned with a sleek black lacquer finish, exquisitely complemented by golden embellishments. These intricate decorations showcase a captivating dragon motif, symbolizing power, strength, and wisdom. The dragon's graceful presence adds a touch of mystique and beauty to each blade, making this set a true work of art. The centerpiece of the set is the katana, measuring an impressive 39 inches in length. Expertly forged from high-quality stainless steel, embodies the legendary strength and precision of ancient samurai warriors. The wakizashi, measuring 30.5 inches long, and the tanto, measuring 21 inches long, complete the trio, offering versatile options for different scenarios or display preferences. To proudly showcase your collection, the set comes with a finely crafted three sword desktop stand. This stand not only serves as a functional organizer but also adds an elegant touch to any room or office, allowing you to exhibit your swords with pride and reverence. Immerse yourself in the timeless allure of ancient samurai culture and bring the spirit of the dragon into your home with our Black Dragon Three Piece Katana Sword Set. Embrace the legacy of the samurai and experience the artistry and power that these legendary weapons symbolize.
Specifications:
Dragon Motif Design: The black lacquer finish with golden embellishments enhances the overall aesthetics of each sword, exuding an aura of sophistication and elegance.
Premium Craftsmanship: Expertly crafted from high-quality stainless steel, these swords ensure durability, balance, and optimal performance.
Versatile Sword Set: The katana, wakizashi, and tanto blades offer a diverse range of options for various purposes, whether it's for decorative display or as a collector's item.
Three-Sword Desktop Stand: The included desktop stand provides a safe and stylish way to exhibit your sword set, allowing you to showcase the beauty and craftsmanship of these traditional weapons.
Size Specifications: The katana measures 39 inches in length, the wakizashi measures 30.5 inches, and the tanto measures 21 inches, providing a visually striking size difference between the three blades.