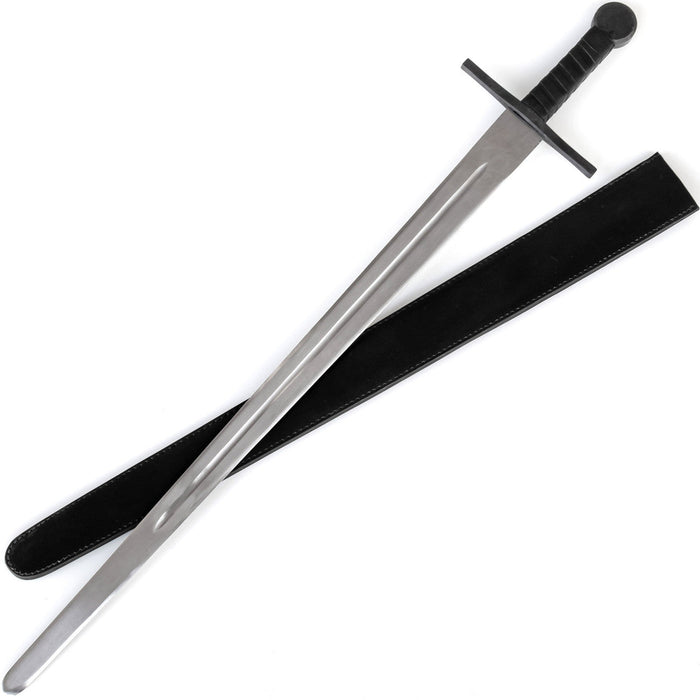 Black Knight Heavy Duty Sparring Sword Handmade for Battle
Sale
Sale
Original price
$189.99 CAD
-
Original price
$189.99 CAD
$189.99 CAD
-
$189.99 CAD
Current price
$189.99 CAD
Description:
Enter the arena with the Black Knight Heavy Duty Sparring Sword, a formidable companion designed for the rigors of combat. Crafted with precision, this full-tang sword features a tapered carbon steel blade, ensuring both strength and flexibility in every swing. The blade seamlessly connects to a heavy-duty handle, leather-wrapped for a comfortable and secure grip during intense sparring sessions. At an overall length of 41 inches, with a blade extending 33.5 inches, this sparring sword provides the reach and heft needed for serious training. The rounded pommel adds a strategic advantage, facilitating a comfortable grip for maneuvers requiring extra leverage. The stealthy blacked-out design of the pommel, guard, and handle not only enhances its aesthetic appeal but also adds an element of intimidation. Housed in a meticulously crafted leather sheath, the Black Knight Sparring Sword is not just a training tool but a statement piece of durability and style, embodying the spirit of a warrior in training.
Specifications:
Full Tang Construction: Ensures durability and strength during intense sparring.
Tapered Carbon Steel Blade: Combines flexibility and cutting power for realistic training.
Comfortable Leather-Wrapped Handle: Provides a secure and comfortable grip.
Rounded Pommel for Extra Leverage: Facilitates strategic maneuvers during combat.
Stealthy Blacked-Out Design: Guard, handle, and pommel offer a sleek and intimidating appearance.