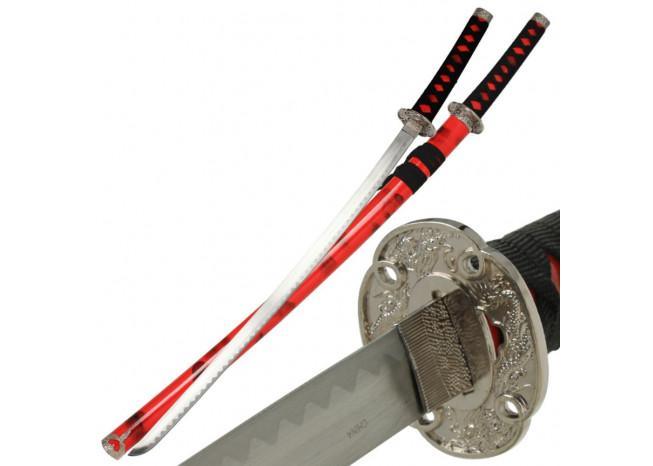 Dragons Rapture Japanese Samurai Katana Sword
Sale
Sale
Original price
$99.99 CAD
Original price
$99.99 CAD
-
Original price
$99.99 CAD
Original price
$99.99 CAD
Description:
This is the Dragons Rapture Japanese Samurai Katana Sword. The blade of the sword measures 26.75 inches and has been constructed from high carbon steel with a visible Hamon (temper line) and it comes slightly sharpened. The Saya (scabbard) is wooden with a blood red glossy finish with a black smoke accent and it offers a traditional bull horn Sageo (Cord) which is used mostly for hanging. The aluminum alloy end cap and scabbard throat are both detailed with scenes. The handle of the sword is wooden and it is wrapped with a traditional braided style black nylon cord. The handle also sports a zinc alloy pommel with a dragon. The aluminum zinc alloy guard features a traditional oval design with two dragons. A decorative Habaki (blade collar) helps to keep the blade in position with the handle.
Specifications:
Length: Overall 39.75 Inches; Handle 9.75 Inches; Blade 26.75 Inches
Blade Material: Carbon Steel Construction, Visible Faux Tempered Line
Handle Material: Wood Construction, Black Nylon Cord Wrap
Scabbard Material: Wooden, Red Glossy Finish, Black Smoke Accent, Bull Horn Cord Wrap, Decorative Aluminum End Cap and Throat.
Guard Material: Zinc Alloy, Two Dragon Design, Oval Design