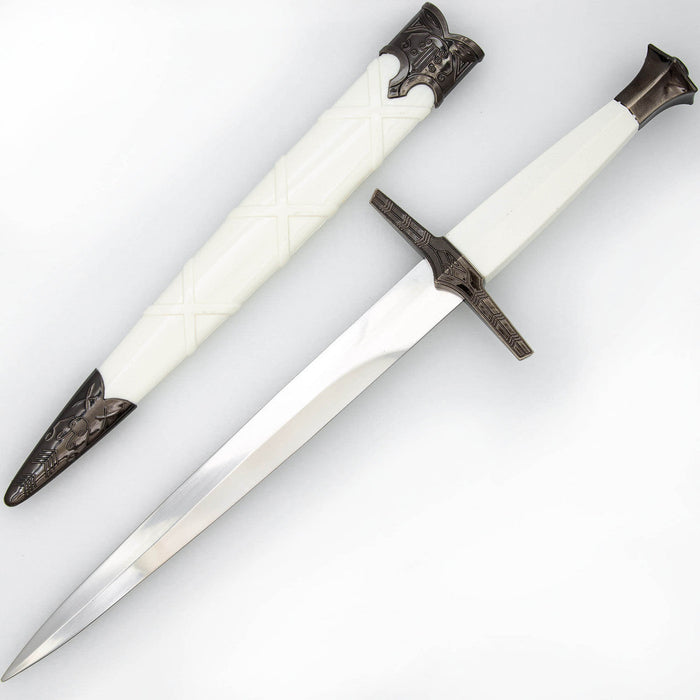 Enchanting Ivory Exquisite White Hexagon Handle Dagger with Metal Fittings
Sale
Sale
Original price
$49.99 CAD
-
Original price
$49.99 CAD
Description:
Immerse yourself in a world of elegance and sophistication with our stunning Enchanting Ivory Dagger. Meticulously crafted with meticulous attention to detail, this exceptional weapon combines beauty and functionality to captivate both collectors and enthusiasts alike. Indulge in the allure of the Enchanting Ivory Exquisite White Dagger, a symbol of refined craftsmanship and timeless elegance. Whether you appreciate its visual charm or seek a functional tool that embodies both form and function, this exquisite dagger is a testament to the artistry of blade-making. Elevate your collection or find the perfect gift for a fellow enthusiast. Order the White Hexagon Dagger with Exquisite Metal Fittings today and experience the fusion of beauty and utility in a truly remarkable blade.
Specifications:
Striking Aesthetic: The Enchanting Ivory Exquisite White Hexagon Handle Dagger features a pristine white handle and sheath that exudes an air of purity and grace. Its distinct hexagonal handle shape sets it apart, creating a visual masterpiece that demands attention.
Premium Construction: Crafted with precision, this dagger showcases exceptional quality. The blade is forged from high-grade stainless steel, ensuring durability and resistance to corrosion, while the metal fittings add a touch of refinement.
Ergonomic Hexagonal Handle: The dagger boasts a unique hexagonal handle design, providing a comfortable and secure grip. The handle's intricate detailing enhances both the visual appeal and the ergonomic functionality, allowing for precise control and confident handling.
Versatile in Purpose: Beyond its visual allure, this dagger is a versatile tool suitable for various applications. Whether you seek a remarkable addition to your collection, an exquisite display piece, or a prop for theatrical performances, the Enchanting Ivory Exquisite White Hexagon Handle Dagger with Metal Fittings is sure to impress.
Dimensions: Enchanting Ivory Exquisite White Hexagon Handle Dagger with Metal Fittings is 16 inches in length with a 4 inch guard