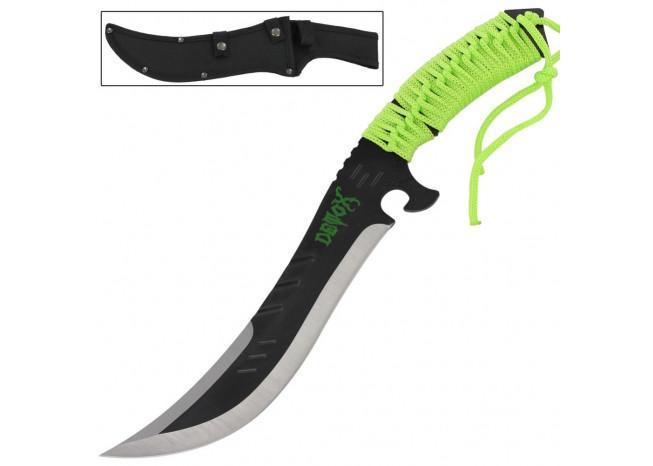 Full Tang Detox Hunting Knife
Sale
Sale
Original price
$49.99 CAD
-
Original price
$49.99 CAD
Description:
The Detox Full Tang Zombie Hunting Knife blade is constructed of steel with a black finish with Detox imprinted on the blade. It is a sharp precision weapon that features a clip point blade. Clip point blades have the appearance of having the forward third of the blade "clipped" off. The clip itself can be straight or concave. This type of blade lends itself to quicker stabbing with less drag during insertion and faster withdrawal. The clip point blade design dates back to at least Macedonian times, where examples of knapped flint clip point knives from the Eneolytic period have been unearthed at the estuary of Drim. With the Detox Full Tang Hunting Knife you will be prepared in case of an attack whether human, animal, or inhuman. The handle has been wrapped with a nylon cord to use in case of emergencies and to create a firm and comfortable grip. Included is a nylon sheath to house your blade when you are finished kicking ass and taking names.
Specifications:
Overall Length: 14.25 inches
Blade Length: 9 inches
Blade: 440 Stainless Steel, Black Anodize, Sharp Blade, Clip Point Style
Handle Features: Full Tang Construction, Small Guard
Includes: Green Print Detox, Bright Green Nylon Cord Handle, Black Durable Nylon Sheath, Velcro Strap, Belt Loop.