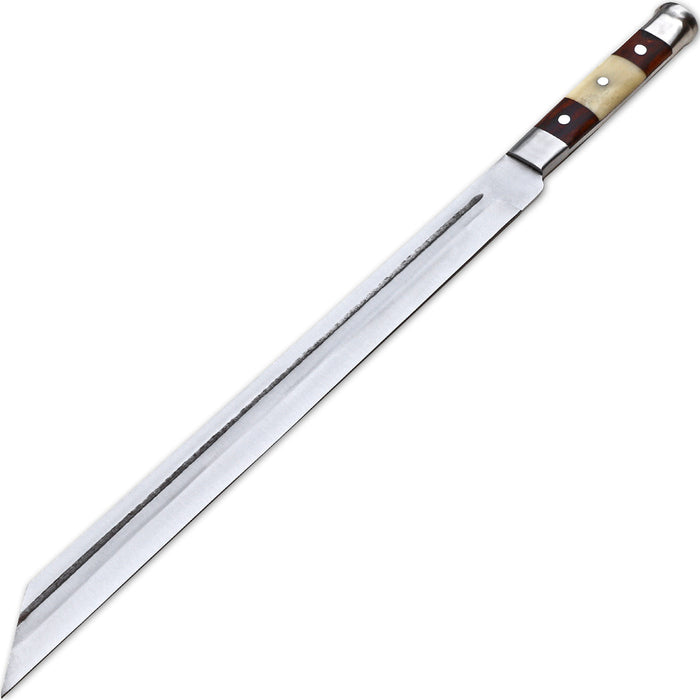 Full Tang Viking Seax Sword with Bone Handle
Sold out
Original price
$149.99 CAD
-
Original price
$149.99 CAD
$149.99 CAD
-
$149.99 CAD
Current price
$149.99 CAD
Description:
Embark on a journey into Viking history with our Full Tang Viking Seax Sword, a unique and beautiful blade crafted with meticulous attention to detail. Handmade with carbon steel, this Viking sword, with an overall length of 25 inches and a blade length of 18 inches, is not just a weapon but a work of art that pays homage to ancient craftsmanship. The distinguishing feature of this seax sword lies in its asymmetrical design, where the longer side of the 18-inch blade is sharpened, following the classic Viking style. Additionally, the blade features a fuller, adding both historical accuracy and a touch of refinement to the design. The full tang construction ensures durability and reliability during every swing. The handle, a fusion of walnut wood and bone inserts, adds both beauty and functionality. Secured with sturdy pins, these alternating inserts provide a grip that echoes the craftsmanship of Viking artisans. The pommel, seamlessly extending from the blade, completes the aesthetic and functional integrity of this Viking Seax Sword. Housed in a wonderful handmade leather sheath, this sword is not just a piece of history; it's a testament to the artistry and skill of Viking weapon-making.
Specifications:
Carbon Steel Construction: Handmade with high-quality carbon steel for durability and historical accuracy.
Asymmetrical Blade Design: Sharpened along the longer side, following the classic Viking seax style.
Full Tang Construction: Ensures strength and reliability during combat or display.
Alternating Walnut Wood and Bone Handle Inserts: Combines aesthetics and functionality for a secure and comfortable grip.
Seamless Pommel Extension: Extends from the blade, completing the Viking design and adding balance to the sword.