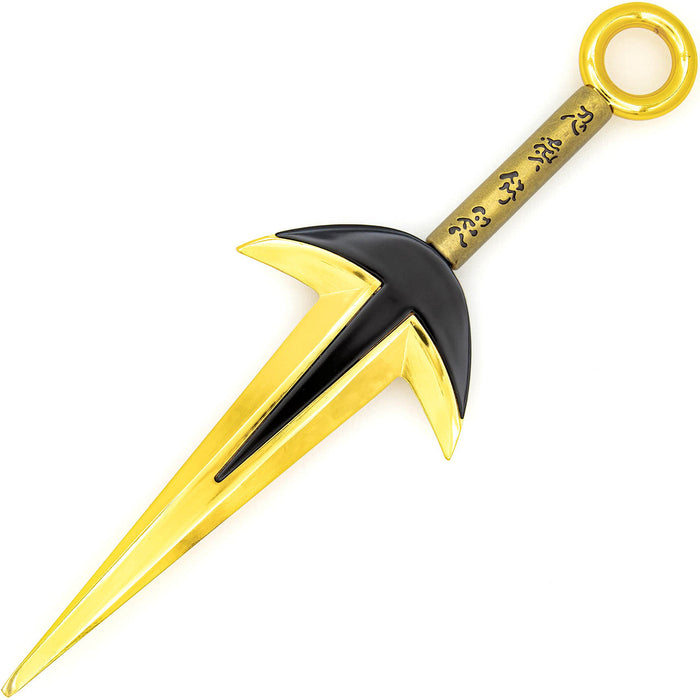 Golden Dragon Tri Point Kunai Knife
Sale
Sale
Original price
$49.99 CAD
-
Original price
$49.99 CAD
Description:
Introducing the Golden Dragon Tri Point Kunai Knife, a masterfully crafted weapon that embodies both power and elegance. This stunning kunai knife is meticulously designed with precision and adorned with exquisite details, making it a true collector's piece. Measuring 11.5 inches in length, this tri point kunai is larger than the average throwing knife, allowing for enhanced throwing force. The knife features a sleek black finish, accentuated by striking gold accents that add a touch of opulence to its appearance. The handle of the Golden Dragon Kunai is adorned with an intricately etched kanji inscription, adding an aura of mystique and authenticity. The inscription symbolizes the indomitable spirit and strength that lie within the wielder. Crafted from durable metal, this heavy-weight kunai is designed to withstand rigorous use and maintain its impeccable balance. Its remarkable craftsmanship ensures a perfect blend of functionality and aesthetics, making it equally suitable for throwing practice or display. Experience the allure and power of the Golden Dragon Tri Point Kunai Knife. Whether you're an avid collector, a martial arts enthusiast, or a skilled thrower, this masterpiece of art and functionality will captivate you with its beauty and elevate your throwing skills to new heights.
Specifications:
Tri Point Design: Unique tri point shape enhances throwing precision and improves overall balance.
Striking Aesthetics: Black and gold finish exudes elegance and showcases intricate detailing.
Kanji Inscription: Handle features an etched kanji inscription, representing strength and resilience.
Enhanced Length: Measuring 11.5 inches, it provides increased throwing force.
Durable and Well-Balanced: Crafted from sturdy metal, ensuring longevity and optimal balance.