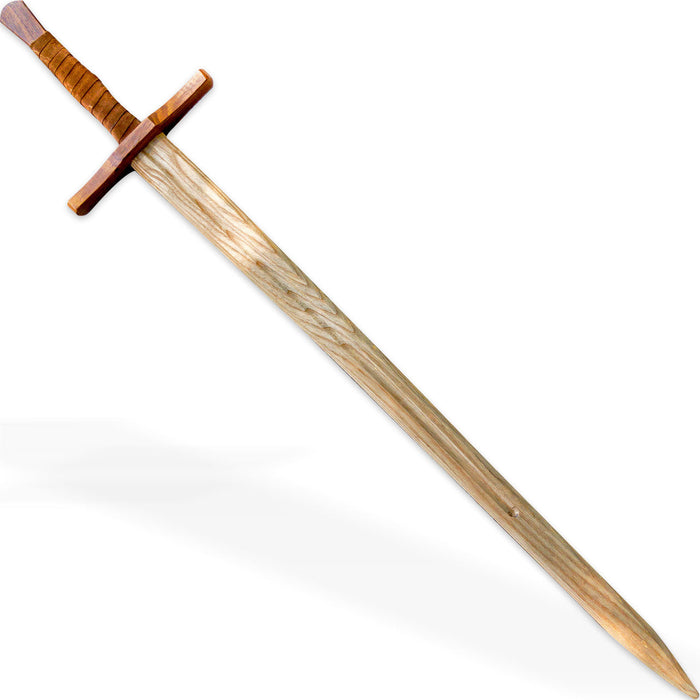 Knightly Wooden Practice Sword with Leather Wrapped Handle
Sold out
Original price
$59.99 CAD
-
Original price
$59.99 CAD
Description:
Embark on a journey of swordsmanship with our Knightly Wooden Practice Sword. This 40-inch training sword, made from durable hardwood, offers an authentic feel for honing your longsword techniques. Perfect for knights, martial artists, or enthusiasts, it is crafted to provide a safe yet realistic training experience. The dual-tone finish enhances its appearance, with a darker-stained guard and handle setting it apart. The standout feature is the leather-wrapped handle, meticulously designed for comfort and a secure grip. This thoughtful addition ensures that your training sessions are not only effective but also comfortable, even during extended practices. Whether you're delving into historical reenactments or perfecting your martial arts skills, the Knightly Wooden Practice Sword is your trusted companion on the path to mastery.
Specifications:
Perfect Length: 40-inch wooden practice sword for realistic longsword training.
Durable Hardwood Construction: Crafted from sturdy hardwood for prolonged use.
Dual Tone Finish: Aesthetically pleasing with a darker-stained guard and handle.
Leather-Wrapped Handle: Ensures a comfortable and secure grip during training.
Versatile Training Tool: Ideal for knights, martial artists, and enthusiasts perfecting longsword techniques.