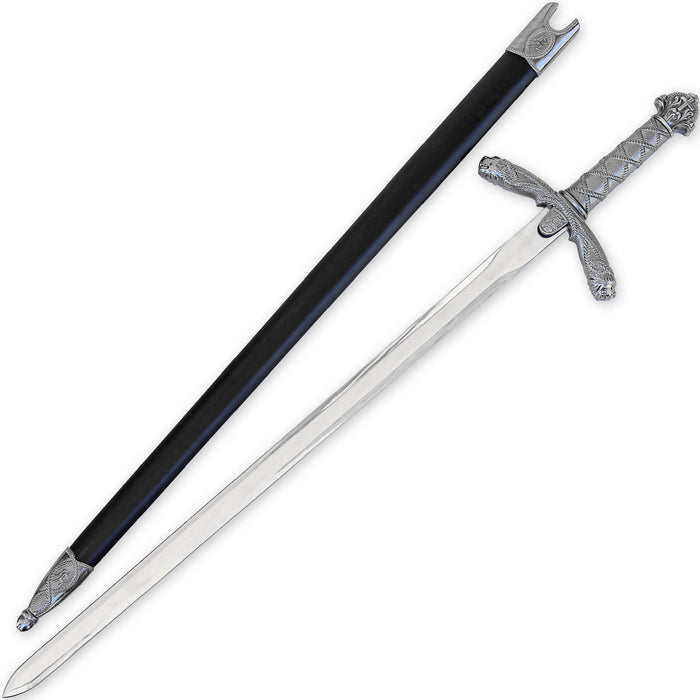 Lionheart Crusader Sword with Cross Emblazoned Pommel
Sale
Sale
Original price
$149.99 CAD
-
Original price
$149.99 CAD
$149.99 CAD
-
$149.99 CAD
Current price
$149.99 CAD
Description:
Introducing the Lionheart Crusader Sword with its magnificent design and exceptional craftsmanship. This extraordinary weapon pays homage to the chivalrous knights of old, blending elegant aesthetics with remarkable functionality. Every detail has been meticulously crafted to create a sword that embodies strength, valor, and a deep-rooted heritage. Immerse yourself in the legacy of ancient knights with the Lionheart Crusader Sword. Whether you are a collector, an enthusiast, or someone seeking a remarkable centerpiece, this 39-inch sword encapsulates the artistry and symbolism of a bygone era. Unleash your inner warrior and wield a piece of history with this remarkable blade.
Specifications:
Intricate Metal Fittings: The Lionheart Crusader Sword boasts exquisitely designed metal fittings that enhance its overall grandeur. From the intricately carved guard to the captivating lion head accents, these details exemplify the dedication to craftsmanship.
Rope Pattern Handle: The handle of this 39-inch sword is carefully wrapped with a distinctive crossing rope pattern, providing a comfortable and secure grip. The tactile feel of the rope adds a touch of authenticity to the design, ensuring both aesthetics and functionality.
Decorative Pommel with Christian/Templar Cross: The pommel of the Lionheart Crusader Sword features a striking decorative pattern showcasing a prominent Christian or Templar cross. This symbolizes the spirit of faith and honor that characterized the knightly order, adding a meaningful touch to the overall design.
Lion Head Guard: The guard of this sword features two intricately sculpted lion heads on each side, symbolizing strength, nobility, and courage. These fierce lion motifs serve as a powerful representation of the knight's valor, making it a true emblem of bravery.
Stainless Steel Blade with Hard Metal Scabbard: The stainless steel blade of the Lionheart Crusader Sword measures 39 inches, combining function and durability. It is housed within a sturdy hard metal scabbard, ensuring the blade's protection and making it a reliable companion in any quest or display.