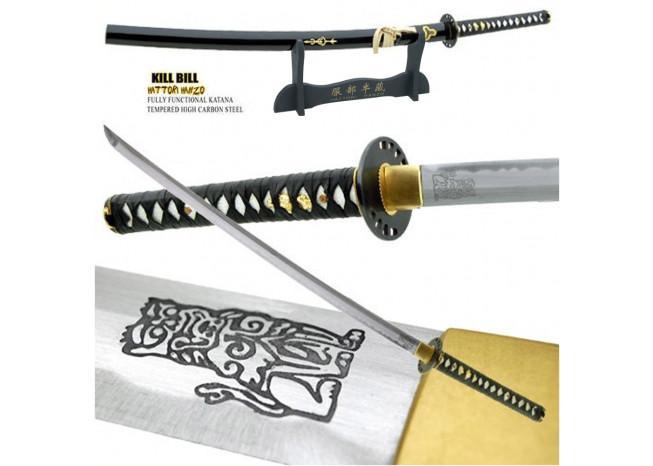 Musashi Kill Bill Brides Sword 1060 Carbon Steel Blade
Sale
Sale
Original price
$249.99 CAD
-
Original price
$249.99 CAD
$249.99 CAD
-
$249.99 CAD
Current price
$249.99 CAD
Description:
Hand forged steel from the prodigious sword producer, Musashi. This samurai sword is a genuine masterpiece of the Brides sword from the movie Kill Bill. It is fully functional and hand forged to meet the strictist standards set forth by Musashi. Each sword has it's own hand hammered pattern and is individually hand sharpened. It has a thick 7.45mm blade that seperates (slices) targets like butter. Careful, it is very sharp and can be dangerous in untrained hands. Etched into the forged blade is the Hattori Hanzo "foo-dog" insignia. The sword guard is made of solid metal with brass trim. Grip the handle with confidence, as the ray skin and cotton wrapped grip is securely functional. The hardwood scabbard is gloss black with a clear Urethane coating, also known as piano finish. It features the Hanzo engraving and precise gold designing. This sharp masterpiece can be displayed or used for cutting.
Specifications:
Dimensions: Overall Length - 40 Inches, Blade Length - 29 Inches
Blade: 1060 High Carbon Steel, Full Tang, Battle Ready, Razor Sharp, 7.45 mm Thick, 45-50 Hardness of Edge and 40-45 of Back
Material: Tsuba - Solid Metal, Handle - Genuine Ray Skin, Cotton Wrapped
Saya (Scabbard): Hardwood, Black Gloss, Hardened Urethane Clear Coat, Piano Finish
Includes: Free Sword Bag and Sword Stand.