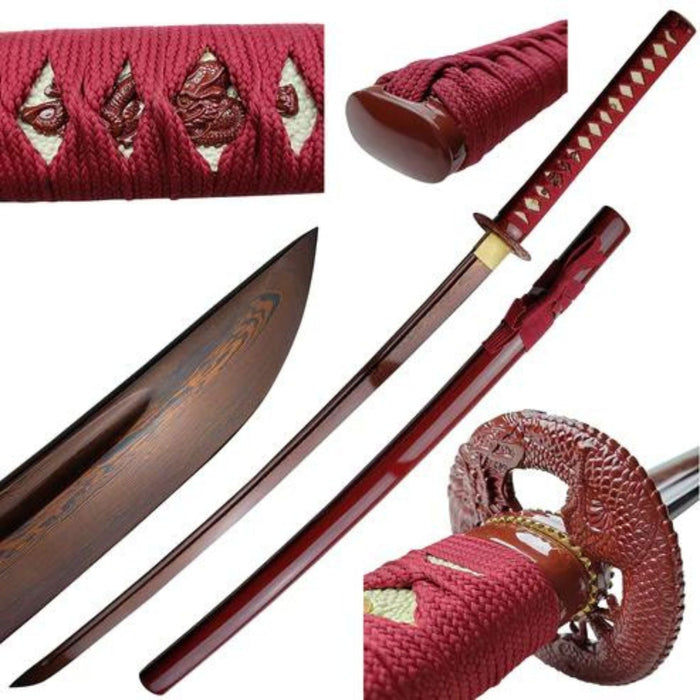 Rare Red Damascus Steel Katana
Sold out
Original price
$329.99 CAD
-
Original price
$329.99 CAD
$329.99 CAD
-
$329.99 CAD
Current price
$329.99 CAD
Description:
Elevate your collection with our Rare Red Damascus Steel Katana, a stunning masterpiece destined to be the highlight of any serious sword collection. Meticulously handcrafted, the high carbon steel blade undergoes a tempering process, revealing a unique damascus steel pattern that is individual to each blade. The razor-sharp edge, honed to perfection, is treated with a striking red IP coating, setting this katana apart with its bold and distinctive color. The metal guard, also finished in a beautiful red, adds an elegant touch to the overall design. The handle, wrapped in ray skin and cotton, ensures a comfortable and secure grip, while the red-finished pommel adds a finishing flourish. Housed in a beautifully red lacquered sheath that complements the vibrant blade, this katana stands at an impressive 41 inches with a 28.5-inch blade—a collector's dream and a uniquely beautiful sword.
Specifications:
Rare Red Damascus Steel Blade: Each blade boasts a unique and captivating pattern.
Razor-Sharp Edge: Honed to perfection for optimal cutting performance
Striking Red IP Coating: Adds a bold and distinctive color to the blade.
Elegant Red Metal Guard: Enhances the overall design with a touch of sophistication.
Comfortable Grip: Ray skin and cotton-wrapped handle ensures a secure and comfortable hold.