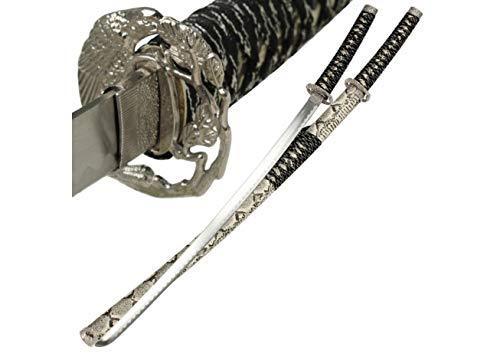 Serpent Cursed Japanese Samurai Katana Sword
Sold out
Original price
$49.99 CAD
-
Original price
$49.99 CAD
Description:
When slaying snakes, what better way to show whose boss than with this Serpent Cursed Snake skin Japanese Sword? This sword is an eye-catcher for sure. With the boa snake reticulated python pattern and silver fixtures, this sword is striking. This sword stays with the traditional aspect of Japanese culture with its black and silver Sageo (cord) wrapping, also known as a bull horn which gives it a beautiful contrast between the snake skin wrappings on the Saya (Scabbard). The shiny silver finished Tsuba (guard) design goes well with the detail at the Koiguchi (scabbard mouth) which is also the same vibrant silver color with an intricate art detailed Habaki (blade collar). The guard depicts a bird on a tree with its beak inside of the flower. The Tsuka (handle) features a scabbard matching black and silver colored nylon ITO braid over the wooden handle. Below the ITO braid is the same snake skin style wrap. At the butt cap (Kashira) you can see two dragons; one on each side and down along the very base of the butt cap. Dragons and snakes sounds like a lethal combo for sure!
Specifications:
Overall length: 39.75 Inches
Blade: 26.75 Inches, Carbon Steel Construction, Visible Faux Tempered Line
Handle Material: Wood Construction, Black and Silver Nylon Cord Wrap
Scabbard Material: Wooden, Faux Snake Skin Wrap, Bull Horn Cord Wrap, Decorative Aluminum End Cap and Throat.
Guard Material: Silver Zinc Alloy, Bird on a Tree, Oval Shape