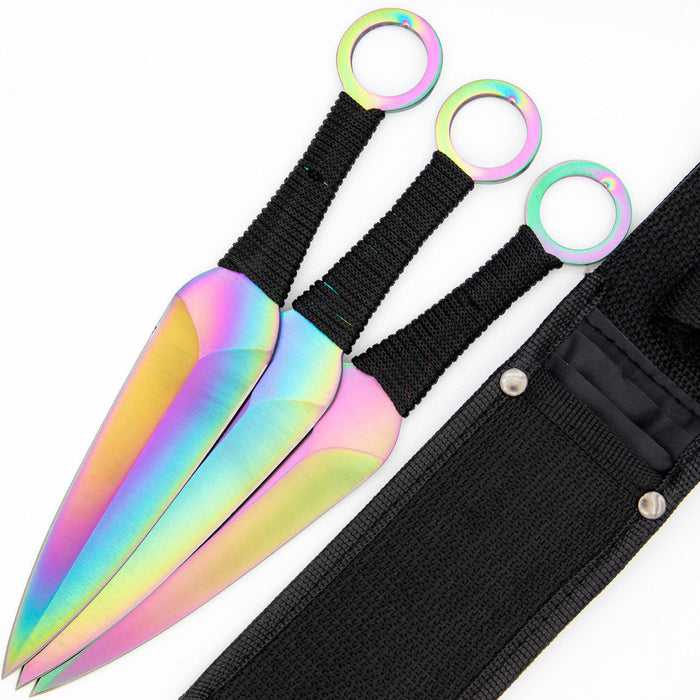 Serpent Strike Throwing Rainbow Kunai Set
Sale
Sale
Original price
$39.99 CAD
Original price
$39.99 CAD
-
Original price
$39.99 CAD
Original price
$39.99 CAD
Description:
Introducing the Serpent Strike Throwing Rainbow Kunai Set, a formidable collection of three expertly crafted throwing knives, designed to elevate your throwing skills to new heights. Crafted from high-quality metal, these kunai knives exude durability and precision, making them ideal for both beginners and seasoned throwers. Each knife in the Serpent Strike set measures 9 inches in length, striking a perfect balance between agility and throwing power. With their sleek and aerodynamic design, these knives cut through the air with exceptional stability, ensuring unparalleled accuracy in every throw. The handles of the Serpent Strike knives are meticulously cord wrapped, providing a secure and comfortable grip for flawless handling. The cord wrapping not only enhances your control but also adds a touch of elegance and authenticity to the overall design, invoking the spirit of ancient throwing arts. To keep your throwing kunai knives close at hand, the set comes complete with a durable belt carry pouch. This pouch is specifically designed to securely hold all three knives, enabling easy transport and quick access whenever you're ready to unleash your throwing prowess. Unleash your inner warrior and embrace the art of throwing with the Serpent Strike Throwing Rainbow Kunai Set. Immerse yourself in the thrill of hitting your targets with pinpoint accuracy, while embodying the grace and precision of ancient martial arts.
Specifications:
Superior Craftsmanship: Expertly crafted from high-quality metal, ensuring durability and long-lasting performance.
Optimal Length: Each 9-inch knife strikes a perfect balance between agility and throwing power.
Sleek and Aerodynamic Design: Ensures stable flight and exceptional accuracy, hitting targets with precision.
Secure Grip: Cord-wrapped handles provide a firm and comfortable grip for consistent throws.
Convenient Belt Carry Pouch: Allows for easy storage and portability, keeping your knives within reach.