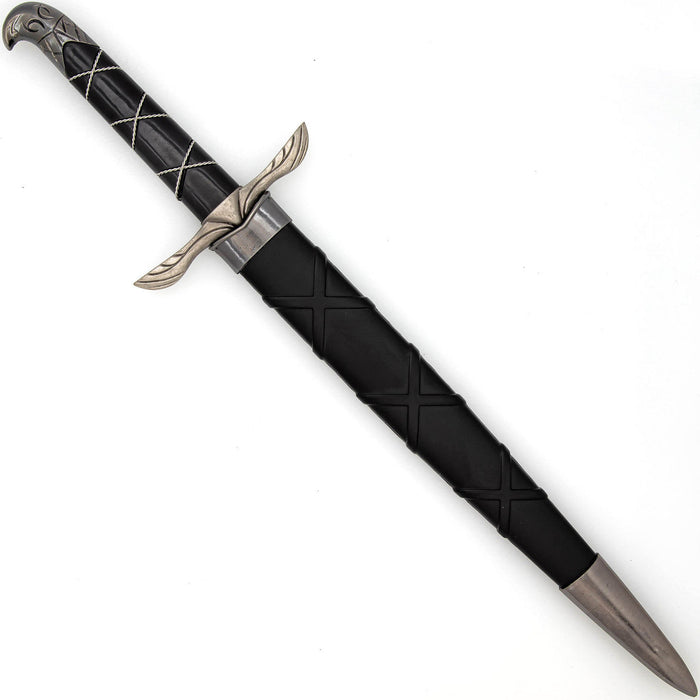 Shadow Wing Midnight Avenger Dagger
Sale
Sale
Original price
$49.99 CAD
-
Original price
$49.99 CAD
Description:
Unleash the essence of nocturnal elegance and become the embodiment of stealth with the captivating Shadow Wing Midnight Avenger Dagger. Crafted with meticulous precision and designed to mesmerize, this black dagger embraces the beauty of darkness and exudes an aura of mystery. Embrace the enigma of Shadow Wing Midnight Avenger Dagger and wield the elegance and power of the night. Let its captivating design and exceptional craftsmanship transport you to a realm where darkness reigns supreme. Order your own Shadow Wing Midnight Avenger Dagger today and step into the shadows with a weapon that mesmerizes, captivates, and strikes fear into the hearts of your adversaries.
Specifications:
Striking Aesthetic: The Midnight Avenger Dagger features a sleek, stainless steel blade that stretches 9.5 inches in length, poised to strike with deadly precision. Its allure is enhanced by a unique wing-shaped guard that adds an air of mystique and sophistication.
Superior Craftsmanship: Meticulously crafted with attention to detail, this dagger showcases exceptional quality. The stainless steel blade ensures durability, while the expertly crafted metal fittings add a touch of elegance and refinement to its overall design.
Perfect Balance: With a total length of 16 inches, Shadow Wing is meticulously balanced for optimal handling and control. Its ergonomic design ensures a comfortable grip, empowering you to wield it with confidence and precision.
Versatility and Power: This versatile dagger serves as more than just a collector's item. Whether you seek a captivating centerpiece for display, a prop for theatrical performances or cosplay, or a functional tool for ceremonial purposes, the Midnight Avenger Dagger excels in all realms.
Symbol of Night's Embrace: The dagger embodies the essence of the nocturnal realm, embracing the secrets of the shadows and the power they hold. Its wing-shaped guard symbolizes the freedom of flight and the mysterious allure of creatures that dwell in the night.