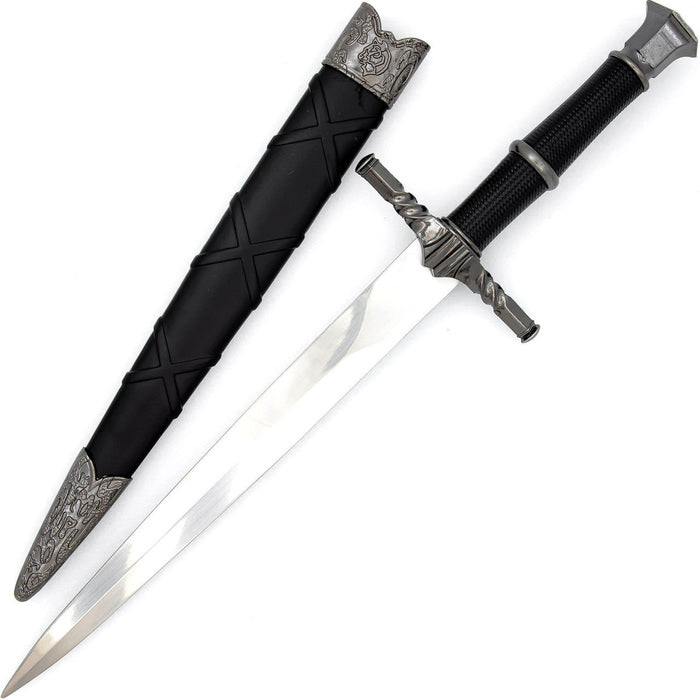 Shadowfall Obsidian Twilight Dagger
Sale
Sale
Original price
$49.99 CAD
-
Original price
$49.99 CAD
Description:
Introducing the Shadowfall Obsidian Twilight Dagger. Step into the realm of shadows and embrace the essence of mystery and power with our extraordinary black dagger. With its captivating design and exceptional craftsmanship, Shadowfall is a true masterpiece that demands attention and ignites the imagination. Unleash the allure of Shadowfall Obsidian Twilight Dagger and embrace the beauty and intrigue it holds. Whether you're an avid collector, a passionate enthusiast, or simply drawn to the mesmerizing world of blades, this extraordinary dagger is a must-have addition to your collection. Order your own Shadowfall Obsidian Twilight Dagger today and experience the perfect fusion of artistry, craftsmanship, and the power of shadows.
Specifications:
Exquisite Aesthetics: The Obsidian Twilight Dagger boasts a sleek steel blade that reflects the enigmatic allure of the night. The textured handle provides a comfortable and secure grip, enhancing both the visual appeal and functionality.
Twisted Guard: The dagger features a uniquely twisted guard that adds a touch of elegance and complexity to its design. This ornate element not only elevates its aesthetic appeal but also symbolizes the enigmatic nature of its wielder.
Mesmerizing Metal Fittings: The dagger is adorned with intricately crafted metal fittings that exude an aura of sophistication. Each detail is meticulously designed to enhance the overall elegance and create a visually striking masterpiece.
Versatility and Power: Shadowfall is not just a work of art but a formidable weapon. Its balanced construction and expert craftsmanship ensure both functionality and reliability. Whether you display it as a collector's item or wield it as a symbol of strength, this dagger is the embodiment of versatility and power.
Dimensions: The Shadowfall Obsidian Twilight Dagger measures 15 inches in total length with a 4 inch guard.